About Us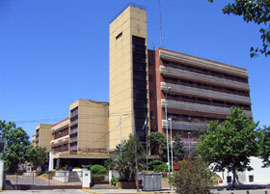 In early 1993, with an experience of more than 10 years in electronics elevator control, Eng. Daniel E. Dalmati and Alfredo H. Olivieri, currently CEOs decide to pool their efforts to form a company dedicated to design and manufacture of such equipment, as well as provide service to them.
Through the years of constant research into Elevators field and its complements, have been involved in other areas of industrial control and maintenance of equipment.
Today manufacture Elevator Control Panels, Supervision Boards PC-based, curtains and infrared barriers, load weighers, speech synthesizers for voice announcement not only for lifts but in any kind of equipment to help people with special abilities, soft start systems for asynchronous motors used in hydraulic pumps, fan motors, traction motors for lifts, etc.
Located in the Industrial Technology Centre, we offer our customers an extensive laboratory for research, development and production of the latest technologies applied to vertical transport.
Our Mission:
Customer Satisfaction
Customer satisfaction starts when we consulted on our products. We always try to find the product that best suits their needs. We analyze this application and develop it according to them. Our teams are constantly evolving to this end.
In the particular case of the Elevator Control Panels the traffic on the installation is analyzed. In this way clients can not just choose the cheapest product but also the end user expects to have. So it was originally released a computer limited to 16 stops duplex with traction control of one or two speeds. Over the years improvements have been developed that expanded the possibilities of our equipment installations battery of 6 lifts up to 32 stops with traction control variable frequency and voltage, hydraulics and DC Ward Leonard type generator or static generation.
As for our Voice Synthesizers are flexible and adapt to different uses.
There is no limitation on the number of messages or the maximum length of each one of them. The large amount of installed equipment allows us to have a large library of digitized messages and for rapid response to a request. But if the message is not one of those who have, offer scan any message that we provide or, if necessary, make the original recording by professional speakers in the studio.
Having chosen the product is customer satisfaction with short delivery times and installation information complete and reliable. Always be attached to all equipment assembly plans (in the support pages of our website we have a complete set of plans for installation of our equipment on-line consultation).
After delivered a product we continue to customers. All products are guaranteed for 1 year against any manufacturing defect. Before any damage, even outside the warranty period, the period of any repairs never exceeded 24 hours.
Some of our distinguished clients are: